Game Downloads
You're located in category:
Jetsons, The
The Jetsons by Softie is a decent platformer starring Mr. Spacely, George, Elroy, Astro and Rosie, main characters from Hanna Barbara's charming TV cartoon about an accident-prone space-age family. The plot: renegade robots have taken one of Mr. Spacely's sprocket plants. And George, his most stupid subordinate, may just be stupid enough to risk his life to get it back.

You can choose to play as either George or Elroy in one-player mode, or play both characters with a friend in two-player hotseat mode. The gameplay is simple: use the arrow keys to avoid hostile robots; run, crawl, and jump your way to the next screen. You have three lives (called "days" in the game); losing all of them means restarting that level. There is also a strict time limit on each level in the form of energy counter: you will die when the countdown reaches zero. Fortunately, the game is neither difficult nor long enough to be frustrating, although the characters' movements are somewhat too "sticky," i.e. unresponsive to keystrokes.

Overall, The Jetsons suffers from the same weaknesses as most other Hi-Tech games based on TV licenses: repetitive gameplay and lack of originality. The death scenes in this one at least are funny to watch, though.
Download full game now: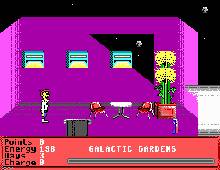 Jetsons, The screenshot
People who downloaded this game have also downloaded:
Jetsons Space Race, Chip & Dale in: Rescue Rangers, Simpsons: Bart's House of Weirdness, The, Super Mario Pac, Haunted House