Game Downloads
You're located in category:
Jaywalker
Jaywalker is a unique and fun little puzzle-bent action game from Ancil Anthropy, lone designer of Piquin and Cubots, two other puzzle gems reviewed on this site. Subtitled "the game of pedestrian revenge," Jaywalker puts you in control of Marjorie, "...an anti-car revolutionary head, as she attempts to rid the road of the menace of the cars. To do this you will run around the middle of a busy intersection, causing cars to swerve and crash into traffic poles and into each other. Jaywalker is endless, but features progressive difficulty. [The game] will record your top ten scores. This game was created with Game Maker 5 and was inspired by the Shockwave game Crash and the Game Maker example game Street Race."

The game reminds me of Frogger, except it is much more challenging. It takes a while to get used to the idea that you are trying to *crash* the cars, not help them pass safely (perhaps I've been playing traffic light simulations for too long ;)). The first few minutes are relatively easy: you need to deal with only one car at a time, so all you need to do is jump in front of the car at the right moment and from the right angle so that it would swerve and crash into the pathwalk or traffic poles. One two cars and more start coming, however, Jaywalker becomes much trickier. Since you gain more points from staging multiple-car crashes, a near-perfect blend of timing, reflexes, and strategy is necessary to get good scores. All in all, an enjoyable and addictive coffee break gem that should delight fans of reflex-based puzzlers or unique action titles.
Download full game now: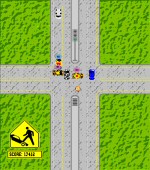 Jaywalker screenshot
People who downloaded this game have also downloaded:
Jailbreak, Haunted House, Mall Monster, Inner Worlds