Game Downloads
You're located in category:
Jason Storm in Space Chase
The only platformer developed by Safari Software, Jason Storm in Space Chase is a decent 2D side-scrolling platformer similar to Duke Nukem and Bio Menace. The game follows the exploits of Jason Storm, intrepid galactic adventurer, as he explores alien worlds and space stations. Like Duke Nukem, Jason Storm combines typical side-scrolling action with some puzzle elements, such as finding the right key for the right door, etc. The game looks and plays well, but compared to other shareware classics it's pretty much an average game that doesn't offer anything new. Well worth a look only if you are a die-hard fan of Epic Megagames, and interested in knowing what Safari designers were doing before they made classic 2D shooters like Seek & Destroy.

Note: This download includes all three episodes: the first shareware one, and two others that came with the registered version.
Download full game now: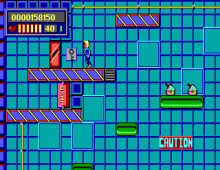 Jason Storm in Space Chase screenshot
People who downloaded this game have also downloaded:
Giana Family, Chasm: The Rift, Wing Commander: The Kilrathi Saga, Lion King