Game Downloads
You're located in category:
Heroes (1995)
Heroes is an excellent Nibbles clone coded by RealTech, a demo group. Like Nibbles, your goal in the game is to maneuver a small vehicle around the arena, while collecting power-ups and avoiding obstacles, your opponents' trails, and your own trail. One or two players can play the game.

Heroes extends the playability of Nibbles substantially with all-new graphics and five game modes. "Quest" offers classic Nibbles gameplay, "Death Match" gives you very long tails and tasks you with killing all opponents, the objective in "Kill'em All" is to run over lemmings, and finally in "Time Cash" or "Color" modes you must collect money or pyramids of color. The game features 12 original sound tracks, 94 levels (made up of 10 different tile sets), plus an intuitive level editor. If you enjoy Nibbles, Heroes is one of the best remakes you will find.
Download full game now: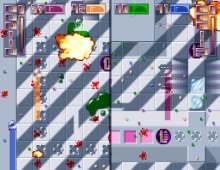 Heroes (1995) screenshot
People who downloaded this game have also downloaded:
Judge Dredd, Pharaoh's Tomb, Gorilla 2: The Return, Ikari Warriors II: Victory Road, Super Mario Pac