Game Downloads
You're located in category:
Gorilla 2: The Return
Gorilla 2: The Return is a superb fanmade sequel to Gorilla, Microsoft's classic QBASIC game in which two gorillas fought to the death atop city buildings with explosive bananas. This unofficial sequel is packed with new additions, including different banana types, more gorilla characters, enhanced graphics, and the ability to challenge another player over the Internet.

Like all good fanmade remakes/sequels, Gorilla 2 expands on the original while keeping the basics intact. Your goal is still to hit your opponent by inputing the angle and power of your banana throw, but now you must take into account not only gravity and the skyline, but also wind speed and direction as well. The new types of bananas are a lot of fun to use (high yield banana and war banana are my favorites), and the game even allows you to chat with the other player, records the chat log, and keeps IP addresses for easy access. If you love Gorilla, you will definitely have fun with this sequel - especially when you play the game against a friend. Highly recommended!
Download full game now: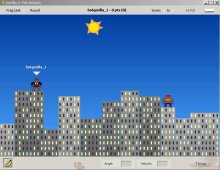 Gorilla 2: The Return screenshot
People who downloaded this game have also downloaded:
Gorilla, Haunted House, Gradius Deluxe Pack, Full Tilt! Pinball