Game Downloads
You're located in category:
Firefighter
FireFighter is a fun and unique action/strategy game s a fire commander to coordinate the activities of firefighters in controlling outbreaks of fires, extinguishing the flames as quickly as possible to minimize losses to livestock, houses, and land. You start each map by buying necessary equipment and personnel, including firebreaks, firefighters, fire trucks and fire planes. Then it's off to use these in a real situation, keeping an eye on a number of parameters such as wind speed, terrain types (e.g. fire spreads quicker through short grass than tall grass), and emergency indicators. You earn money from each mission based on how much land/house/livestock (all sheep, incidentally - the game was made in Australia ;)) you help preserve. A built-in terrain generator that you can customize (choosing map size, size of initial fire, etc.), AI unit control, and a random physics system ensures that every game is different.

First released as shareware, developer Vortex Software Design released it into the public domain (as "thank-you ware") in 1999. If you enjoy unique action/strategy games, FireFighter is well worth your time, even if some maps are almost impossible to finish and it feels more like click-fests most of the time than a thoughtful strategic game (slowdown programs help, though). Highly recommended!
Download full game now: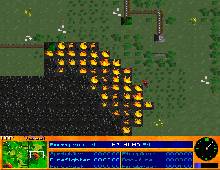 Firefighter screenshots
People who downloaded this game have also downloaded:
Duke Nukem: Waiting For Forever, Final Impact, Fire Fight, Frogger, Goonies, The