Game Downloads
You're located in category:
Factor X
Factor X is a fun free-for-all top-down fragfest that is inspired by Virtually Real's cult classic Destruction Carnival. As the official site proclaims, the game is "...a massive compilation of a 23 level story mode with 4 bosses and 3 bonus levels, an arcade mode where you compete for highscores and collect "FX" icons, as well as 3 secret modes of gameplay. Each of the secret modes is large enough to be a game themselves. The music is an excellent selection of MOD files and the graphics are all original.

The gameplay is similar to the amazing classic Destruction Carnival, but Factor X has significantly revamped the classic. 10 normal weapons and 3 more secret ones as well as 5 normal enemies to battle. You will not be disappointed by this modern classic."

Hyperbole aside, Factor X is a fun game that is well worth a look by fans of Virtually Real's classic, as well as anyone interested in wanton destruction carried out by small little animated cartoon characters. It is by no means an original title that Destruction Carnival is, but Factor X packs enough punch on its own with solid gameplay and excellent play value. Recommended!
Download full game now: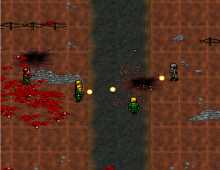 Factor X screenshot
People who downloaded this game have also downloaded:
Frenetic Plus, Front Mission: Gun Hazard, Crusader: No Regret, Fury of the Furries