Game Downloads
You're located in category:
Dragonball
Review 1:

A small game made just for a Frateran Fair in August of 1993, Dragonball gives you an option to play one of two famous Dragonball characters. As I said, the game is small and simple, there are no more modes but one: select a fighter and beat the other one. You have several great moves at your disposal but that's just about all. You might want to try this game if you're a Dragonball fan, but I suggest you to try Mortal Kombat or Street Fighter instead.

Review 2:

Perhaps the first fanmade Dragon Ball Z game for PC in existence today, this version of Dragonball Z is a playable beta version of a never-released PC game based on the immensely popular Japanese anime/manga of the same name.

The game is structured as a side-scrolling fighting game for one or two players. Since it's a beta, only two players are available: Goku and Kuririn (here called by their Chinese names, Wukong and Gulin), so you'll have to fight against either of them in every fight. Gameplay, however, is top-notch: despite some blocky graphics and sub-par color palette that prevent the animations from being as smooth as they could, the game truly evokes the look and-- more importantly-- *feel* of a Dragon Ball Z fight. Players can jump high up in the air and shoot powerful blasts from that vantage point, or move in close for a one-on-one martial combat exchange. The screen splits vertically or horizontally when the two players are far away, just like in the cartoons, and both players have their trademark attacks that loyal fans will be familiar with: Goku with his pumped-up Super Saiyan bursts (when his hair turns yellow), and Kuririn with quick snaps of fireballs. Overall, it's unfortunate that the game was never finished, but even in beta stage, Dragonball Z provides a good, clean coffee-break fun for all fans of the show.
Download full game now: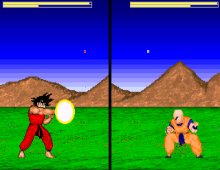 Dragonball screenshot
People who downloaded this game have also downloaded:
Dragonball Z Millennium, Super Mario Pac, Double Dragon 3: The Rosetta Stone, House of the Dead, The