Game Downloads
You're located in category:
Dragon Spirit
Dragon Spirit is an excellent but little-known PC conversion of a hit arcade game, originally from Bandai but converted by a team of fans. At first glance, Dragon Spirit looks just like any other vertical shooters, except that you ride a dragon instead of a spaceship. Once you spend some time with the game, however, you will find many neat differences that set it apart from most shooters. Your goal is to go through 9 stages to rescue your sister and her maids from an evil demon called Zawel. When you start the game, you can breath only a puny single-shot fire blast, but you will slowly grow to become a three-headed flame breathing monster. Yes, you can grow heads in this game - just one of the neat power-ups you can find. Other power-ups include firepower increase, speed boost, and calling up two "ghost" dragons to help your cause. Along with power-ups, there are also "power-downs" - bad items that you must avoid, lest they drain your power, etc.

The difficulty system in Dragon Spirit is one of the most innovative ones you'll come across in a shooter. Once you beat the demon Zawel, you can go on to play the game in the "Blue Dragon mode" which is the normal mode. If you lose this one, you play the "Gold Dragon mode" which is an easier, shorter mode. This makes the game fun to players of all skill levels. Yet another innovative feature of Dragon Spirit is when you rescue the maids at the end of each stage. If you have "fulfilled" certain things, the maid will be visible and can help you.

Last but not least, Dragon Spirit is very intuitive and easy to play. The graphics is no match for the crisp graphics of the original arcade game, but it is more than adequtae - and almost on par with the official Amiga conversion. All in all, Dragon Spirit is a very well-done conversion that all shooter fans should take a look. Recommended!
Download full game now: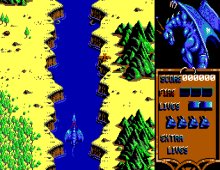 Dragon Spirit screenshot
People who downloaded this game have also downloaded:
Ghosts'n Goblins, Destruction Derby, Gauntlet, Goonies, The, Gauntlet 2