Game Downloads
You're located in category:
Cruel World
Cruel World is a below-average Prince of Persia clone from Makh-Shevet, a little-known Israeli developer who later made Master of Dimensions and Armed and Dangerous adventure games. As a harmless citizen who is one day thrown into the dungeon for no reason, your goal is to escape with your life intact in true Prince of Persia fashion.

The game is extremely similar to Jordan Mechner's classic - from the 2D/isometric layout, to red potion flasks that represent your health and your enemy's health. You will fight skeleton soldiers, make impossible leaps across chasms, negotiate tricky traps, and generally pull off the same stunts as the famous Arabian prince. Despite obvious similarities, Cruel World may still be forgivable if it matches the fun of Mechner's classic. Unfortunately, more boring level designs, awkward movements, and drab palette degrade Cruel World to be only a poor man's version of Prince of Persia. Play 4D Prince of Persia instead if you are looking for a great fanmade tribute to that game. Replaying the original Prince of Persia games is more fun than this lackluster game that could not manage to match its inspiration.
Download full game now: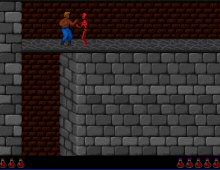 Cruel World screenshot
People who downloaded this game have also downloaded:
Zorro, Prince of Persia 2: The Shadow and the Flame, Doom 2D, Prince of Persia, Cybermercs