Game Downloads
You're located in category:
Crime Killer
Crime Killer is a fun and much-overlooked arcade racing/shooter game from Interplay, coded by Britain's Pixelogic. The premise: in the future, you are the son of a cop who died in the line of duty. Determined to follow in your father's footsteps and avenge his death, you start out as a rookie in the force. Your job: chase the bad guys by armed futuristic car, bike, and 'flying wing, earning promotions along the way. You can either disable the bad guys with the sonic destabilizer, or blowing them away with the default cannon or powered-up weapons.

The game's strongest points are fluid graphics and fast-paced gameplay. Pixelogic took care to make the graphics as good as 1998 technology allows, and as a result Crime Killer boasts details that are missing in many other games, including realistic lighting effects and vehicles that reflect the extent of damage. Sound effects are very good and appropriate as well: you will hear different weapons and siren screams reverberate through the catchy soundtrack. At the breakneck speed of 60 frames per second, 3D gameplay is fast, smooth, and nonstop. Three types of vehicles you control and dozens of weapons and enemy types ensure enough action and variety that will keep you glued to your seat.

On the downside, controls are awkward and hard to get used to. Plus, your visibility radius is limited to only about 40 feet, which means the bad guys you pursue often get away almost as fast as you find them. This necessitates depending on the radar much more than should be necessary - I can't remember how many times I crash and burn while looking at the radar. If you can overlook these nitpicks or are very good at action games, however, you will find Crime Killer a very fun game that, despite my grumbles, definitely merits our top game tag. The split-screen two-player options (holotag and deathmatch) also add a nice bonus to this fun game that constantly tests your reflexes with 60-FPS nonstop action. Recommended.
Download full game now: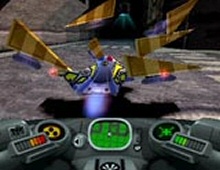 Crime Killer screenshot
People who downloaded this game have also downloaded:
CyberMage: Darklight Awakening, Kingpin: Life of Crime, Destruction Derby, Carnivores 2, Privateer 2: The Darkening