Game Downloads
You're located in category:
Biprolex+
Biprolex+ is a very addictive arcade-style puzzle game that requires both quick thinking and reflexes. Gameplay is essentially Tetris meets Breakout: At the top of the screen is Tetlix, an entity which emits Tetris-style blocks, and at the bottom of the screen is Acarlex, a Breakout (or Arkanoid) bat. Between them are blocks. There are over 50 levels and the players play each level twice (playing each level as each entity). Normally the game is played against the computer, but multiplayer options are supported.

The objective is to beat the other entity, either by destroying it (Tetlix hits Acarlex with a block, Acarlex hits Tetlix with a ball) or claiming all the special glowing blocks. It's a hard game to get into - the interface and controls are very confusing, and the manual is even more confusing, due to being written in Russian and poorly translated into English. However, the game itself is ingenious and incredibly original. Definitely a must-have for Tetris and Blockout fans alike. KD-Lab released the game as freeware in 1999, so you really have no excuse not to try this one out if you're a puzzle fan.
Download full game now: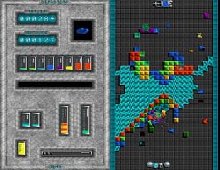 Biprolex+ screenshot
People who downloaded this game have also downloaded:
B-Hunter, Baryon, Ambush in Sector 9, Amanagi, BBQ (a.k.a. Yakiniku)