Game Downloads
You're located in category:
Backlash: A Turret Gunner Simulation
Backlash: A Turret Gunner Simulation is a straightforward clone of Wing Commander without the intriguing plot dynamics and personalities that made it a classic space combat game. Your job: climb into the ball turret of a starship and defend it against an onslaught of drones, enemy ships, asteroids, and mine fields. Similar to Wing Commander games, you will need to manage shield and firepower ratios to conserve energy depleted by firing, and protect the ship against armor damage. Successfully complete missions, and you will earn monetary rewards to upgrade ship and weapon systems before heading off to another dangerous mission.

The game looks and plays well, but no more than average. The ships are not as detailed as in Wing Commander, and most of the designs are quite repetitive. Mission objectives are also not as interesting, so you will spend a lot of time simply shooting all the enemy ships and stray into view. Overall, Backlash is a decent effort from a small shareware developer without a big budget, but ultimately can't rise from the repetitive gameplay to be something special. Not recommended, although Wing Commander may get a kick or two out of seeing familiar concepts and gameplay in this lackluster clone.
Download full game now: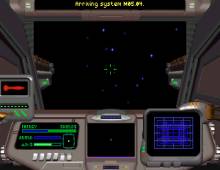 Backlash: A Turret Gunner Simulation screenshot
People who downloaded this game have also downloaded:
AVS (a.k.a. Kakutuku), Azutama, Ashes to Ashes, Afterburner 3D, Armour-Geddon