Game Downloads
You're located in category:
Air Offensive: The Art of Flying
Air Offensive: The Art of Flying is a decent 3D shooting game from Inca Gold. The official word on game plot: "...as a fresh recruit, you will join the militia forces of the Archipelago in a desperate attempt to fend off rebel forces, trying to establish a regime of terror. You must defend your island through 50 levels of varied terrain, intense dog-fighting and ground attack missions as part of you squadron."

Featuring 7 different hypothetical aircrafts, Air Offensive offers decent playability, although it comes across as only a marginally above-average game - nothing that will attract fans of Incoming or even Rebel Assault. The gameplay is decent enough: you fly the aircraft from a first-person perspective, blasting everything in sight from airborne enemies to ground terrets. Each of the 7 aircrafts in the game has its own arsenal, including air-to-air and air-to-ground missiles, cannon, and a few more esoteric weapons. SVGA graphics is crisp and smooth, but the levels are far from the detailed and varied vistas of Incoming. So, all in all, Air Offensive would have seemed like a good game had we never seen the likes of Incoming. Unfortunately, we have, and so Air Offensive falls short of the high standards set by such modern classics. Recommended for a few minutes of quick play, but don't expect it to be a permanent resident on your hard drive.
Download full game now: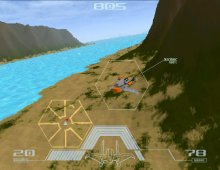 Air Offensive: The Art of Flying screenshot
People who downloaded this game have also downloaded:
Afterburner 3D, 18th Airborne, Alien Odyssey, Alien Rampage, 4D Prince of Persia