Game Downloads
You're located in category:
Trials of Odysseus Kent, The
The Trials of Odysseus Kent is a short but very entertaining adventure game reminiscent of Monkey Island 2. The plot: you are Odysseus Kent, who has recently arrived in a small village in search of the Lost Treasure of Randolph McBoing. You have found out that the treasure is buried in the cemetery at a local churchyard. The problem is that the parish priest won't let you dig there. Your goal, of course, is to somehow gain access to the burial site.

While the game is very short and easy, its excellent sense of humor and funny dialogues ensure that you will enjoy it while it lasts. The dialogues in particular deserve special mention as some of the best scripts ever written for a freeware adventure game. Compared to Ben Croshaw's earlier (and already very good) Rob Blanc series, The Trials of Odysseus Kent is a superior game despite shorter length. I finished the game in one go, but enjoyed every minute of it. If you love LucasArts' classic adventures, this is one fanmade game that you should play. In The Trials of Odysseus Kent, Ben Croshaw succeeded in capturing the sense of humor that made Monkey Island so memorable.
Download full game now: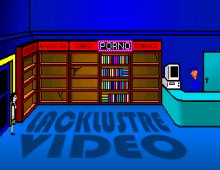 Trials of Odysseus Kent, The screenshot
People who downloaded this game have also downloaded:
Teen Agent, Two of a Kind, Out of Order, Pirate Fry 2: The Hand of Anturus, No-Action Jackson