Game Downloads
You're located in category:
Touche
Review 1:

A good adventure game based mainly on different parts of Alexandre Dumas' classic novel, Touché: The Adventures of the Fifth Musketeer. You play as Geoffroi le Brun trying to make a living in the national guard.

The game engine is inspired by the popular point-and-click Monkey Island engine which is just brilliant. Like Monkey Island the game offers some hard but great puzzles you will have to solve. The humor is also included within Touche giving some good laughs once in a while (not as crazy as Monkey Island though) and it's rare to see games like this in the period (around 1997).

Talking with other characters in the game is a very good feature taking the game abobe similar adventure games. The graphics are quite good (except for a few minor graphic glitches) and overall the game keeps to it's main theme and historical period. Worth a try for and not only for adventure game fans.

Review 2:

Loosely based on characters from Alexandre Dumas' classic novel, Touché: The Adventures of the Fifth Musketeer details the exploits of Geoffroi le Brun as he attempts to prove his worth to the famous French regiment. It's as conventional as games go, but the interesting character interactions, challenging puzzles, and appealing plot all add up to a rewarding and fun adventure game that's reminiscent of LucasArts' classic Monkey Island in both style and humor despite some tedious dialogues and pixel-hunting moments.

Review 3:

This game reminds me of Monkey Island. A lot. The main character is a musketeer wannabe and has just recently arrived to the city of Rouen in his search for glory. Fortunately for him (but unfortunately for the poor guy), someone was attacked in the dark alley just a few moments ago. As a true hero (kind of), the "musketeer" offers his help and promises to find the assasins. The adventure begins.

Touche is filled with humor and is quite enjoyable to play. The game features a lot of puzzles, both easy and challenging. The graphics are pretty, the sound is good (if only the speech hasn't been ripped out in this version). You will travel throughout the France, meet interesting people, gather weird objects, fight king's enemies, get in and out of funny situations and such. Great game that deserved more attention when it was released.
Download full game now: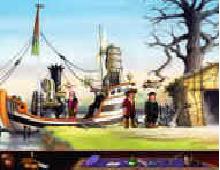 Touche screenshot
People who downloaded this game have also downloaded:
Shannara, Lost Files of Sherlock Holmes 1 (a.k.a. Case of the Serrated, Maniac Mansion Deluxe, Out of Order, Teen Agent