Game Downloads
You're located in category:
Shadowgate
Shadowgate is a typical fantasy adventure game with a typical defeat-an-evil plot: you have been sent to Castle Shadowgate prevent the resurrection of an evil monster (called the Behemoth). Although most puzzles are logical, Shadowgate is most memorable for the ridiculous amount of time you will die -- just picking up a book or walking into a certain room will kill you instantly. Torch management is also a pain because there's a limited number of them lying around. Definitely NOT the game for the easily frustrated! Too bad the sequel Beyond Shadowgate was released only on the TurboGrafx 16 system.

After a long hiatus, ICOM is finally back as Ininite Ventures, and has updated the game to Windows 95 version! Go buy it today from Shadowgate website!
Download full game now: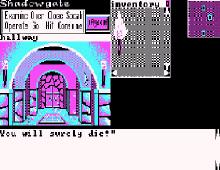 Shadowgate screenshot
People who downloaded this game have also downloaded:
Uninvited, Deja Vu 1: A Nightmare Comes True, Deja Vu 2, Maniac Mansion Deluxe, Space Quest 0: Replicated