Game Downloads
You're located in category:
Project Xenophobe
If you are one of those people who are convinced that no adventure game that has many typos and grammatical errors can be fun, stop reading this review now and browse the rest of our Adventure genre listing. But if you think you are a forgiving type of adventure gamer who can forgive those mistakes if a game does the rest well, Project Xenophobe is for you. You play a soldier sent by the military to investigate mysterious happenings at an isolated military base.

The game, as I implied above, is riddled with many grammatical errors, typos, and awkward sentences - mainly because the author is not a native English speaker. But the rest of the game is so well put together that makes me willing to forgive this otherwise-crucial aspect of adventure games. Besides, the typos and grammatical errors are not so severe as to frustrate you - they are just annoying to observe. The puzzles, plot development, and graphics in Project Xenophobe are all excellent, even if some puzzles are too easy or mundane. The game builds up the excitement very well - so well, in fact, that you will be pleasantly surprised by either of the two endings in the game, both of which are appropriately climactic. Add to this atmospheric music (largely from Vangelis' 1492 album), minimal but effective sound effects, and some neat plot twists, Project Xenophobe is well worth our top game award, and comes recommended to every adventure gamer who is willing to forgive poor grammar in well-designed games.
Download full game now: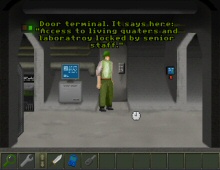 Project Xenophobe screenshot
People who downloaded this game have also downloaded:
Lost Files of Sherlock Holmes 2 (a.k.a. Case of Rose Tattoo), Lost Files of Sherlock Holmes 1 (a.k.a. Case of the Serrated, Other Worlds, Maniac Mansion Deluxe, Realms of The Haunting