Game Downloads
You're located in category:
Mourir en Mer
A short but sweet freeware adventure game from a lone French developer who goes by the ?handle of Dorcan, Mourir en Mer (To Die at Sea in English) is a great amateur game that showcases the breadth of subjects that adventure games can handle effectively. Although it is a small game that will take you less than an hour to finish, Mourir en Mer succeeds in doing what many commercial titles fail to do: draw you into a captivating story that tackles a range of difficult subjects that are not seen often in adventure games - disability, cruelty, and death. You play a sick, ugly boy who has been locked up by his cruel father. With only the novel "Moby Dick" to keep company, the boy has but one dream: to see the sea before he dies. You must help him escape the house and fulfill this final wish.

Because Mourir en Mer is very short, it has only a handful of puzzles. But the puzzles that are there are challenging enough to stall you for at least a few minutes - and maybe even force you to restore a saved game. The real strength of the game lies in its wonderfully moving story and atmosphere, which, even though is translated from the original French (with some awkward sentences), is still powerful enough to make you sympathize with the unfortunate protagonist... and think about the story long after it ends. If you prefer story-based games over puzzle-fests, Mourir en Mer is a small but wonderful little gem that is well worth a look.
Download full game now: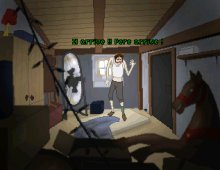 Mourir en Mer screenshot
People who downloaded this game have also downloaded:
In The Dead of Night, No-Action Jackson, Other Worlds, Igor: Project Uikokahonia