Game Downloads
You're located in category:
Mindwheel
Synapse's last game and also its most ambitious, Mindwheel unfortunately ends up as an ideal example of a great concept that is horrendously botched by frustrating puzzles that are not illogical, but are poorly integrated with the amazing storyline. Written by Robert Pinsky, one of the most acclaimed young poets in the 20th century, Mindwheel simply has one the best and most unique sci-fi plots you'll ever come across, with many layers and metaphors that will take repeat playing to appreciate. At its most basic level, the game is about telepathy: you will time-travel into the kaleidoscopic minds of four deceased geniuses. You will encounter the Cave Master, inspired father of the primary visions, retrieve the Wheel of Wisdom, civilization's one key to salvation, and witness some of the most crucial moments in history.

Unfortunately, this wonderful premise is shattered by absurd puzzles that bear no relation to the game's larger plot. Most of the game's puzzles revolve around finding words to complete the various sonnets posed by different characters, and answering obscure riddles. The problem is that it is often almost impossible to know if you have found the right word, and why. Worse still, some words are written only in the manual/novella that comes with the game, with almost no clue to the effect. The parser is decent, although its range of synonyms are very limited (for example, in one case it will only understand LADY but not WOMAN).

Mindwheel is one of those rare games you really want to like, but simply can't. The illogical and frustrating puzzles simply get in the way of enjoying the game, which is extremely well-written. It would probably have been a true classic had Pinsky opt for a "true" (i.e. passive) electronic novel (e.g. Activision's Portal) than a real game. The storyline and writing are among the best you'll ever find in a game (or books, for that matter)-- it's just unfortunate that they are trapped inside a poor shell of puzzle-solving, merely for the sake of utilizing the "interactive" medium. The few nuggets of sonnets and poetic fragments in the novella alone are proof of why Pinsky is regarded as one of the most talented poets of his generation. The bottom line: read the novella that comes with the game's manual, and play the game only as an afterthought.
Download full game now: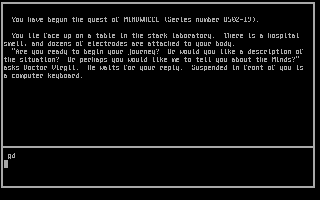 Mindwheel screenshot
People who downloaded this game have also downloaded:
Mindfighter, Metropolis, Moonmist, Journey, Forbidden Quest