Game Downloads
You're located in category:
Legacy: Realms of Terror, The
Magnetic Scrolls' last game is a hugely underrated adventure game with RPG elements based on its "Magnetic Windows" system last seen in Collection 1 and Wonderland. The cliche beginning (explore your inheritance an archaic mansion) quickly develops into a fascinating and scary horror story full of ghosts, demons, alternate dimensions and dark secrets. Great skill and spellcasting systems lend a strong RPG feel to traditional inventory-based gameplay. Highly recommended, but be prepared for a long journey and some very frustrating battles with the undead.
Download full game now: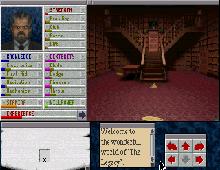 Legacy: Realms of Terror, The screenshot
People who downloaded this game have also downloaded:
Lost Files of Sherlock Holmes 1 (a.k.a. Case of the Serrated, Lurking Horror, The, Maniac Mansion Deluxe, Legend of Kyrandia, The, Lost in Time