Game Downloads
You're located in category:
KGB (aka Conspiracy)
Review 1:

KGB puts You in role of Soviet secret agent! Your job is to find and arrest drug dealers, but You've got almost nothing to start with. KGB is one of the hardest adventure games I've ever played so expect to stay with it for a long time. First person view, point-and-click.

Review 2:

This game is set a few days before the collapse of the Soviet Union in 1991. You play a young KGB officer who is mysteriously transferred to a new secret section of the KGB. You are put on a case that will have an effect on the fate of the whole country...

The real world setting helps this game, but the storyline is too confusing at times and it's hard to keep track of all Russian names. But it's good and you want to find out how it all ends. It's a first person adventure, but don't let that scare you off. There have been some quite horrible examples of that genre (myst, atlantis), KGB pulls it off quite good. The puzzles are quite hard and the fact that it's played out in real time just makes it harder. It's also very hard to get stuck in a position you can't get out of, and you have to reload a saved game. The graphics are good but seriously in need of some animation (Everything is drawn in still pictures).

There is a CD version of this game called Conspiracy. It's the same game only with a few hint videos done by Donald Southerland. If you're looking for a hard game that will keep you occupied for many hours, and you like real world adventures this just might be for you.

Review 3:

Another vastly overlooked adventure from Cryo, this game took me by surprise with its depth and intriguing plot despite awkward writing. You are a KGB secret agent assigned to investigate a powerful drug trafficking operation. Little did you know at the onset that your investigation will lead to a national conspiracy that threatens the future of Russia itself.

Although a linear fare, the game contains "alternative" solutions for many puzzles, and even optional puzzles that don't need to be solved, but add to the game experience. There are also many innovations in the game that will make you feel like a real spy: you can hide from view to eavesdrop on (and record) incriminating conversations, threaten suspects or try to bluff them for information, ambush on a suspect then hide the body afterwards, and much more. Gameplay mostly involves choosing the right thing to say to different characters, as well as efficient use of your time-- the clock ticks mercilessly with each moe, and important events may go on without your knowledge. This makes KGB a difficult game, since you can get irrevocably stuck after realizing that you missed an important event or clues earlier. It's not unreasonably difficult, though, because you are always told your objectives in each mission quite clearly by your superiors. Overall, this is a must play for all fans of spy stories.

Note: Cryo later released the game on CD-ROM and renamed it Conspiracy. This version features identical gameplay as KGB, but with (horrible) video clips of your character's father giving advice, played by Donald Sutherland.
Download full game now: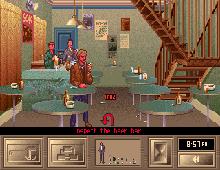 KGB (aka Conspiracy) screenshot
People who downloaded this game have also downloaded:
Lost Files of Sherlock Holmes 1 (a.k.a. Case of the Serrated, Lost Files of Sherlock Holmes 2 (a.k.a. Case of Rose Tattoo), Legend of Kyrandia, The: Hand of Fate, Maniac Mansion Deluxe