Game Downloads
You're located in category:
Jewels of Darkness Trilogy, The (a.k.a. Collosal Adventure,
Review 1:

A trilogy of Zork-style games that comprises Colossal Adventure, Adventure Quest, and Dungeon Adventure. The PC version is the update of the original text-only Middle Earth Trilogy. Colossal Adventure is an expanded version of the original Adventure (mainframe IF) written by Will Crowther and Don Woods. Basically it expands the endgame and the gameworld, adding no new puzzles or plot. The subsequent games in this trilogy are full of illogical puzzles and paper-thin plots, although Dungeon Adventure does add a D&D style magic system to make it more interesting. These games originally had references to Lords of the Ring novels that were later removed, possibly to avoid charges of copyright infringement.

Review 2:

One of the masterpieces of Level 9 computing. Graphics/ Text Adventure, based on the Middle Earth stories of Tolkien..
Download full game now: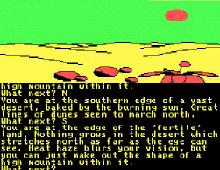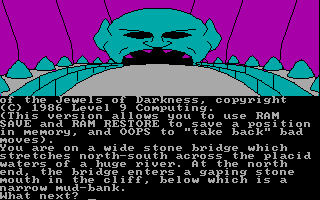 Jewels of Darkness Trilogy, The (a.k.a. Collosal Adventure, screenshots
People who downloaded this game have also downloaded:
Hitchhiker's Guide to the Galaxy, The, Journey, Beyond Zork: The Coconut of Quendor, Hobbit, The, Leather Goddess of Phobos [Solid Gold]