Game Downloads
You're located in category:
Gamma Force in: Pit of A Thousand Screams
Infocom released Lane Mastodon, the world's first "interactive comic book" in 1988 with little fanfare and even lesser reaction from the gaming public. Apart from being the first electronic comic book, Lane Mastodon and all subsequent Infocomics allows the viewer to change perspective between characters, thus providing an excellent replay value as you can replay the story from a different perspective.

Three more stories followed before Infocom decided to halt the unsuccessful venture. The lackluster response was perhaps due to the fact that the comics-- with the exception of ZorkQuest, are based on original premises created by Infocom designers. Furthermore, the then-primitive graphics technology was not conducive to engaging animations. But then again, the dismal sales of Marvel Comics CD-ROM comics today may be suggesting that comics are best suited to print medium after all.

Third in the series, Gamma Force is IMHO the best Infocomics in the series feature a cast of cool superheroes, equally interesting sub-plots for each character, and a lot of action. The story's beginning is a little disorienting as perspectives change rapidly. More emphasis on backstory would have been better, but this is still a lot of fun to watch and the animations are cool.
Download full game now: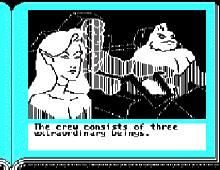 Gamma Force in: Pit of A Thousand Screams screenshot
People who downloaded this game have also downloaded:
James Clavell's Shogun, Arthur: The Quest for Excalibur, Cutthroats, Demon's Tomb: The Awakening, Journey