Game Downloads
You're located in category:
James Clavell's Shogun
A faithful adaptation of James Clavell's hit novel of the same name, Shogun casts you in the role of Blackthorne, an English navigator hoping to fine fortune in the 19th century Japan, only to find that he must earn it the hard way by winning acceptance and respect from wary Japanese.

Shogun captures the novel's plot and atmosphere almost perfectly, with excellent writing, well-paced plot development, and great Japanese-art graphics. The game is broken down into chapters, each of which is self-contained (i.e. every item you can find and use is only for the current chapter) and advances the plot little by little. The puzzles are definitely up to Infocom's usual standards-- in particular, puzzles that require you to figure out how to communicate with the natives are brilliant.

Being based on the same engine as Zork Zero, Shogun also follows in that game's lead in offering new kinds of puzzles to make the game more varied. In this case, there are a few timed sequences, and an arcade-ish maze navigation in which you move Blackthorne around with the arrow keys. Overall, Shogun is Infocom's neglected masterpiece that belongs to every gamer's collection. Although the game would appeal more to Infocom veterans, novices should not be discouraged to try this one out, as the built-in on-line hints are excellent.
Download full game now: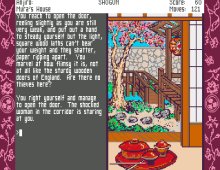 James Clavell's Shogun screenshot
People who downloaded this game have also downloaded:
Hitchhiker's Guide to the Galaxy, The, Lurking Horror, The, Planetfall [Solid Gold], Bureaucracy, Journey