Game Downloads
You're located in category:
Frederick Pohl's Gateway
One of the best sci-fi games I've ever played, this game follows Pohl's classic: you play a "prospector" - one of the brave souls who volunteer to pilot alien crafts to unknown destinations, hoping to find valuable artifacts. As with other early Legend releases, the interface is excellent. I can't find fault with this game except that it seems a bit short. The plot is first-rate and puzzles challenging throughout. (the "Virtual Reality"-based puzzles are some of best puzzles ever designed for an adventure game, bar none). And best of all, Legend released the game as freeware a few years ago to promote Gateway 2: Homeworld.
Download full game now: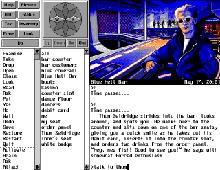 Frederick Pohl's Gateway screenshot
People who downloaded this game have also downloaded:
Gateway 2: Homeworld, Flight of the Amazon Queen, Darkseed 2, Darkseed, Lost Files of Sherlock Holmes 1 (a.k.a. Case of the Serrated