Game Downloads
You're located in category:
Dylan Dog - Through the Looking Glass (a.k.a. Dylan Dog 2)
The second game by Simulmondo based on the horror stories of Dylan Dog is a complete change from its predecessor Dylan Dog - The Murderers. With a better plot, combined with their nice graphics and music, Simulmondo created an interesting and challenging adventure that will keep you playing for hours on end.

The plot, at least at the beginning, is quite simple: an old anthropologist is found brutally murdered at his house in London. As Dylan Dog, "investigator of nightmares", you're asked by the anthropologist's niece to protect her and investigate on her uncle's death. The rest of the plot will be revealed as you progress through the game, and writing it here would be a crime.

The game itself is arguably Simulmondo's best production ever: this time the development didn't stop to the nice sound and graphics they were always capable of, but they created an interesting game with great characters, decent puzzles and a perfect atmosphere. The first remarkable touch is the interface: a truly innovative icon-based system that gives the player a feeling of complete interactivity with the enviroment and the characters, without needing any text input or verb lists, but only intuitive combinations of the two mouse buttons. The characters are another nice surprise: the atmosphere of the comic books is recreated perfectly (thanks to the help of Dylan Dog's inventor Tiziano Sclavi) and it really feels like you're living one of Dylan's adventures on paper.

The game's plot is not too linear, meaning that many times you will be choosing between several places you can visit at the same time: your time is limited and you can visit only one or two of them, and the choice you make is not always the right one. Even though this might seem frustrating, here comes another nice touch: the presence of the "author" of the game's plot. This character shows up only if you haven't achieved anything useful during a period of time or if you forgot somehing important behind: in this case, he will bring you back in time and allow you to try different ways. This means that the game has no dead ends and you won't be afraid of leaving important objects or informations behind. The only problem with this system is that sometimes the game indirectly reveals what you should have done, spoiling the fun a bit.

With great characters, a well-developed plot and a friendly (but not limited) interface, this is a game that, while not reaching the depth of Legend, LucasArts or Sierra's adventures of the same year, comes very, very close to that level. Less "static" graphics, a little more attention to dialogues and a longer plot would have made this a true gem. Overall, a challenging horror game that no adventurer should miss (despite the poor English translation), and Simulmondo's best game ever.
Download full game now: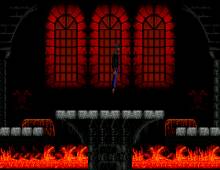 Dylan Dog - Through the Looking Glass (a.k.a. Dylan Dog 2) screenshot
People who downloaded this game have also downloaded:
Darkseed, Flight of the Amazon Queen, Darkseed 2, Lost Files of Sherlock Holmes 1 (a.k.a. Case of the Serrated, Cruise for a Corpse