Game Downloads
You're located in category:
Death Gate
Review 1:

When I started to play Deathgate the first I was really impressed with the graphics and general interface compared to other games from this period. The actual game story is based on a best selling novels although the game story does offer its own unique things as well.

During the entire game you have a good overview of your things (including your magic abilities that have been weighted high in Death Gate). You can interact with the different you meet in the game by using an easy selection menu listing available things you can say and talk about. The puzzles in the game are quite challenging although some of them are a bit too simple. It will most likely not be one of the hardest adventure games for real fans but combined with the story in the game the overall offer is good.

Great and detailed graphics combined with the story (as mentioned earlier) makes Death Gate a great choice for any fan of the adventure genre. And at the end let's not forget the great voices made for the game. Of course voices and graphics doesn't say everything about a game but in this case it adds that little extra to make the game good.

Review 2:

Death Gate is a great fantasy adventure based on best-selling novels by Margaret Weis and Tracy Hickman. As young Haplo, member of the despised Patryn race, you are tasked with finding all pieces of the World Seal to avenge your people and free them.

While similar to other Legend's graphical adventures, Death Gate broke new grounds with an ingenious spellcasting interface that is superbly integrated into the game engine, and required to solve many puzzles. The storyline is strong, although a little too simplistic given the rich fantasy world of the books. Death Gate is also notable for being the first Legend game to feature truly exceptional voice acting-- among the best of its kind. With excellent writing, challenging but not-too-difficult puzzles, and a very high production value with respect to SVGA graphics and voice acting, Death Gate is one of Legend's finest and most underrated games. A must-have.
Download full game now: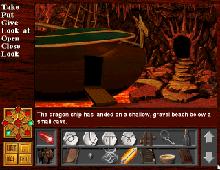 Death Gate screenshot
People who downloaded this game have also downloaded:
Darkseed, Apprentice II: The Knight's Move, Darkseed 2, Apprentice, Veil of Darkness