Game Downloads
You're located in category:
Crime City
Review 1:

Your father, a private investigator, has been arrested and charged with the murder of his freind. Althought the police have closed the case, you are adamant your father is innocent, and set out to find the real killer yourself.

Using a freindly interface, you must navigate your way around the city, keeping a close check on your wallet, and the calendar. You are able to talk to people (using multichoice) to find clues, as well as study the crime scene and other locations. The plot unfolds very well, with new locations becoming available as and when you solve the games sub puzzles.

The games graphics are pretty but a little amateur. The gameplay is excellent, if youre willing to spend a couple of hours playing the game, which involves reading and studying the clues. The puzzles themselves vary in difficulty, but are generally all solvable by a typical 15 year old ;-) You can also dabble on the stock market via your office computer, if youre wallet is looking a little bare.

I looked for this game for a long time, and became convinced it never hit the PC platform. No im very happy to find I was wrong.

Review 2:

This is a neat little adventure game that was released only in Europe with little fanfare. As the prodigal son whose father was arrested for crime he didn't commit, it's up to you to track down the real killer and bring him or her to justice. It's essentially a detective game with creative strategy elements thrown in (e.g. you must manage your time and money very carefully-- each action takes time, and travel costs money). Lots of text in this game provide for hours of fun sleuthing despite amateurish graphics and sound.
Download full game now: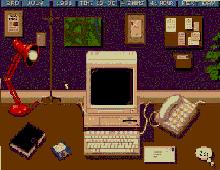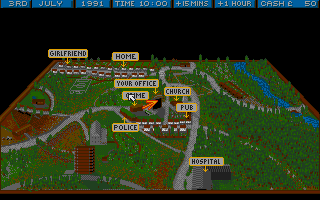 Crime City screenshots
People who downloaded this game have also downloaded:
Clue!, The (a.k.a. Der Clou!), Cruise for a Corpse, Beavis and Butthead in Virtual Stupidity, Bureaucracy, Lost Files of Sherlock Holmes 1 (a.k.a. Case of the Serrated