Game Downloads
You're located in category:
Dizzy: Fantasy World of Dizzy
Review 1:

This has been one of my top 10 games of Commodore 64! I had no idea it was converted to PC until recent when a friend of mine brought it to me on a floppy. Dizzy, the world's most famous egg is looking for his abducted girlfriend (again). You'll have to run around, pick objects, use them on different locations and do other stuff. I love this game!

Review 2:

Fans of Spectrum computers would recall that Codemasters' Dizzy series were some of the best games ever made for that computer. Created by a quirky pair of designers who call themselves The Oliver Twins, the series feature Dizzy, prince of the egg-shaped people (okay, they're actually eggs) who are, quite ingeniously, called yolkfolk. The games are either arcade adventure, or arcade-style puzzlers. The series is memorable for eccentric level design, great music, and wonderful cartoon-style sense of humor. There were 15 Dizzy games made for the Spectrum, only 7 of which were ported to the PC.

Fantasy World Dizzy was the first Dizzy game to have been available for the PC. Third in the series overall, Fantasy World Dizzy is a fiendish platformer that many consider the most difficult in the entire series. This time Daisy, Dizzy's girlfriend, has been kidnapped by the Evil King's trolls and sent to Wizard Weird's Tallest Tower, while Dizzy himself was dragged away and thrown into the deepest, darkest, dankest of the Kings Dungeons in the bowels of Fantasy World. Your job, of course, is to escape.

As in other arcade adventures in the series, gameplay in Fantasy World Dizzy consists of collecting and using items to solve puzzles, as well as platform-style action, such as dealing with the fire- breathing dragon. This is the first Dizzy game to feature his friends the Yolkfolk, and you'll need their help to succeed. There are also some mysterious creatures to watch out for, such as hawks, crocodiles and the armorog. Although this is the only Dizzy game for PC that offers only PC speaker, the music is still quite good for its time. Overall, a nice, pleasant arcade adventure that just might get PC gamers to take a look at this quirky Spectrum classic.
Download full game now: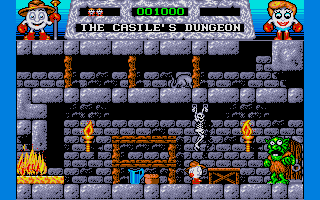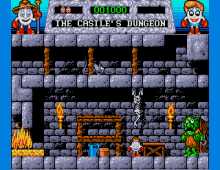 Dizzy: Fantasy World of Dizzy screenshots
People who downloaded this game have also downloaded:
Dizzy: Fantastic Adventure of Dizzy, Dizzy: Magic Land of Dizzy, Dizzy: Prince of Yolkfolk, Dizzy: Bubble Dizzy, Dizzy Remake