Game Downloads
You're located in category:
Walker
Review 1:

Action game

This game rocks! The action it offers and a fun factor are quite high especially in the arcade mode. You play as a huge Walker, a robot that looks like one of those huge bots from Robocop movies. It is armed with two huge machine guns capable of destroying everything, from infantry to tanks and aircrafts.

You move from right to left using the cursors (or joystick) while mouse is used for aiming. One button is for target lock and the other one fires. You will be attacked by multiple enemies on each screen so you must be quite fast to kill them before they kill you!

A fast action paced game that you must play.

Review 2:

Not an ordinary shooter game. It has very good graphics design, and animated intro. There are some cool music with digitalized sound effects, as bonus. You travel with your super devastator robot machine and have to stop war, in all ages. It starts at World War II in Berlin...
Download full game now: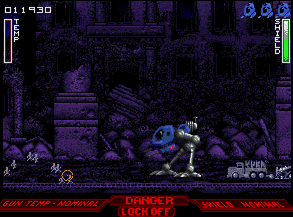 Walker screenshot
People who downloaded this game have also downloaded:
Silkworm, Cannon Fodder, Speedball 2: Brutal Deluxe, Xenon 2: Megablast, SWIV