Game Downloads
You're located in category:
SWIV
Review 1:

Silkworm? Or is it a completely new game. Back when SWIV was released a lot of people thought that this is actually Silk Worm 4(IV). Got that? But it's not! Silkworm 2 and 3 were never released so this can't be fourth sequel!

Anyway, this game plays and looks a lot like legendary Silkworm, only the view is different. Play as Heli of Jeep (or both if you've got a friend) and shoot at anything you see.

Review 2:

It's a well known shoot 'em up game, similar to 1942. You fly with your helicopter and have to shoot many different fighters, tanks, guns, etc. Very nice graphics and speed, from the Amiga 500 era.
Download full game now: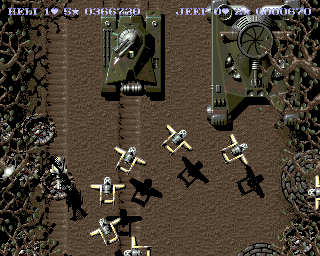 SWIV screenshot
People who downloaded this game have also downloaded:
Silkworm, Speedball 2: Brutal Deluxe, Zool, Zool 2, Walker