Game Downloads
You're located in category:
Stunt Car Racer
Review 1:

Stunt Car Racer has to be one of the oldest games for the Amiga, it was first released on the Amiga, and ran slower than that guy from American pie could do a poo without laxitives... But on the amiga? It ran like perfection!! It was smooth and had damn great graphics for its time, the 3D was blocky, but not as much as half of the games around today!

In the game you play as the guy with the helmet, you play against these other dudes with exagerated cartoony facial characteristics (ooo look at all the big words :)) You can play single or multiplayer games, and on multiplayer you take it in turns... You can only have access to the first group of rides to start with, and work your way up the league to the bigger and better tracks. If you can't be bothered with that, you can always skip it and go for a practice race!

The game includes around 16 colours, but still looks great somehow... Also, another thing is that you can trash your car if you crash too many times... I love this game, and i'm sure fans of racing games or fans of solitaire will also love it!

Review 2:

Well known racer game from C64. Nice vector graphics, very fast speed and pleasurable gameplay with many jumps and extreme tracks.
Download full game now: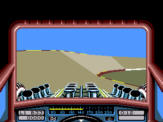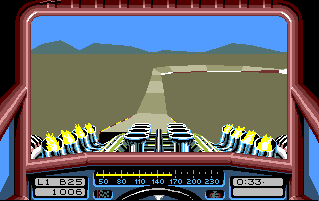 Stunt Car Racer screenshots
People who downloaded this game have also downloaded:
Speedball 2: Brutal Deluxe, North & South, Super Cars 2, Cannon Fodder, Cannon Fodder 2