Game Downloads
You're located in category:
Sensible World of Soccer
Review 1:

Football game

Sensible Soccer, a predecessor of the world famous Sensible World of Soccer. It is definitely one of the best football games of all time. You do not agree? Why not? Bad graphics? No, no, no... The game quality is NOT dependant on how good it looks but on how addictive it is and how much time You'll spend playing it! And by the way...this game looks good. This is fast paced action football game. Those 22 little guys are trying to score more goals than the opposite team and in this game it may not be as hard as in SWOS. You can play with most European national teams and major European clubs as well as some custom teams. It may not be hard, but this game will keep You occupied for LONG time. Trust me, it will!

Review 2:

Probably my favorite soccer game after the Kick Off series. The game offers many different tournaments and cups to choose from and most teams are included as well for both national teams and club teams. Like in Kick Off the ball is not glued to your players which is good and there is also different ways you can shoot the ball.

The match engine is really great and you can have a good look across the entire stadium within a few seconds of play. The graphics are good and detailed and the game has a great atmosphere during the matches as well, because of the sound implemented.
Download full game now: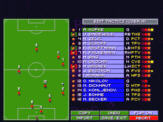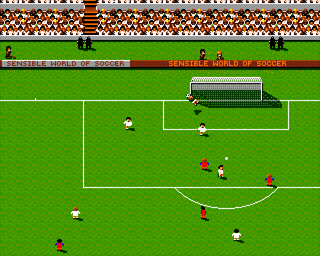 Sensible World of Soccer screenshots
People who downloaded this game have also downloaded:
Sensible World of Soccer 96-97, Cannon Fodder, Secret of Monkey Island, The, Speedball 2: Brutal Deluxe, Secret of Monkey Island 2: LeChuck's Revenge AGA