Game Downloads
You're located in category:
Secret of Monkey Island 2: LeChuck's Revenge AGA
It's about Guybrush Threepwood and the Ghost Pirate LeChuck, who Guybrush killed (for the second time) in Monkey Island 1 and who is now after revenge. It's a very beautiful AGA adventure game, in the classic point'n'click style. Unfortunately it takes 11 floppy disks and a long time to load. The startup code is 99/99.
Download full game now: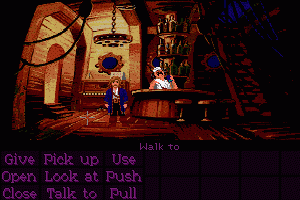 Secret of Monkey Island 2: LeChuck's Revenge AGA screenshot
People who downloaded this game have also downloaded:
Secret of Monkey Island, The, Lemmings, Loom, Lemmings: Oh No! More Lemmings, Indiana Jones and the Fate of Atlantis