Game Downloads
You're located in category:
Kick Off 2
Review 1:

Football game

Sequel to one of the best football games of all time. Sequel that is NOT better than it's predecessor! The game is not as enjoyable as Kick Off 1, mostly because of it's super, unbeatable goalkeepers (ok, they're not unbeatable but it's extremely hard to score a goal). There's an option to play leagues, cups and friendly matches and You can play with up to four players at the same time. The view and complete graphics are still the same as in the first game, but as I said - Kick Off 1 is better than this one. At least for me...

Review 2:

My favorite soccer game on my Amiga. It is much better than the PC version. You can choose between several match modes like one player, two player, custom cup, custom league or the World Cup in Italy in 1990.

The Kick Off series was the first soccer game were the ball isn't glued to the player as seem in many older soccer games. And Kick Off was also the game that lead the soccer market for many years. The graphics might not be impressive, but you will find out that this game actually really good. It also includes weather options, referee options, after touch on/off mode, pitch condition like icy, wet etc. and many more things.

Review 3:

Fine Football game. Only one floppy disk, but many features and very enjoyable gameplay. In the first Kick Off you can see the playground from the top. In 2nd, there is an isometric view!
Download full game now: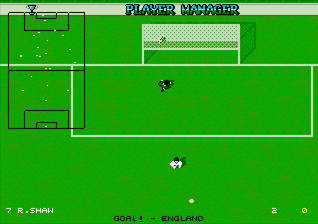 Kick Off 2 screenshot
People who downloaded this game have also downloaded:
IK+, Kick Off 3 AGA, Speedball 2: Brutal Deluxe, Kick Off, Sensible World of Soccer