Game Downloads
You're located in category:
Creatures
Review 1:

Platform arcade

Clyde Radcliff Exterminates All The Unfriendly Repulsive Earth-ridden Slime is the full name of this game. Clyde is one cute little Furball in a pursuit of everything that comes in his way. His goal is to rescue all his friends by completing the levels one by one. On his path he will have to deal with many many creatures of all kinds, collect "money" and buy new weapons at the end of each level. The real great thing are the levels at the end of each stage (there are 3 of them if I remember right). Those are single screen levels in which You have to do certain tasks (something like The Incredible Machine game for PC, made by Sierra) to rescue Your friends. If You fail they'll be cut into pieces or something like that. Creatures is a superb game!

Review 2:

This is a run of the mill platformer. In much the same style of Fire 'n' Ice (If you know of it).

You have to run along, shooting the bad guys and collecting the 'creatures'. That is the aim of the game - To collect creatures and then make it to the end of the level without dieing. This isn't a bad game in many respects, and I remember it was talked about alot, so it must have been big when it first came about. The graphics aren't too bad either. They are nice and colourful and the background scenary is even detailed. I would say this is more of a kids game, but I suppose older people could enjoy it too, but not really for a challenge, as the game is quite easy so far....

I don't really know how I can talk about this game too much, and I think I have told you just about as much as I can about it, so all I can say is download it if it sounds like your cup of tea ;)

Review 3:

A logical platform game, converted/rewrited from the Commodore 64. It's almost the same, the changes can be found only in graphics and music. But it's still interesting and well playable.
Download full game now: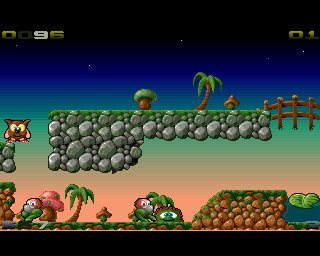 Creatures screenshot
People who downloaded this game have also downloaded:
Another World, Desert Strike, Chaos Engine, Gods, Dizzy 2: Treasure Island