Game Downloads
You're located in category:
Bubble Bobble
Review 1:

Bubble Bobble. Is there anyone that has never heard of those two cute little dinosaurs? Well, if You haven't - be ashamed! Those two little guys are responsible for many divorces, unhappy parents, bad grades in school, Persian gulf war (heh, just kidding)... One of the most famous platforms ever. Jump, run, make bubbles and trap those filthy beasts before You destroy them...on 100 levels!

Review 2:

One of the true classics. Bubble Bobble has gone from success to success on various computer system including the Amiga, Commodore 64 and regular arcade play machines and now in the regular PC's with this version from Novalogic. Like seen in the other versions of the game you control a little dinosaur character and you have to collect different fruit and other things while you are capturing ghosts and other monsters with your bubbles. Once they are captured you have to blow the bubbles and when you have captured all monsters you have completed the level.

It does sound simple and so it is. That is also why the game has gotten so popular as it has in my opinion. The gameplay might not be complicated by you sure as hell get addicted to the game. While you play you may think that you just have to complete a few more levels but then you notice that you are still playing 1 hour later. You can also play the game as two players and the second player can enter the game at anytime - even at the last level if you think that could be funny. The game will get a bit easier when you are two players since you will be on the same team unlike many other games. But playing together instead of against each was more popular in the 80's so that is most likely the reason with Bubble Bobble.

When you play you can also collect other things such as items that makes you move faster (with this you can complete pretty much any level without problems as long as you have played the game for a while) and also an item so you can blow bubbles faster and longer. This can be quite effective if you just stand at a quite safe place. Bubble Bobble is one great game and unless you only have a very specific game taste you can also use a little time on a game like Bubble Bobble because it requires so little attention to begin with.

Review 3:

A masterpiece this game! Bubble Bobble is highly addictive and let's you play for hours - especially if you are playing with a friend - two player team-mode! Basically you just bubble away all monsters and advance to the next level, but everything is just to so nicely worked out and the difficulty of the levels is slowly increasing always lets you think you COULD have made it - and of course you will want to prove it. The Amiga-Version is the best version of this one in my opinion, not only because of it's graphics and sound, but also since it is the only version I could get to run on my PC.

Review 4:

The very nice and legendary platform game, from the Amiga 500 times. Bubble Bobble. It's music was remixed hundred of times.
Download full game now: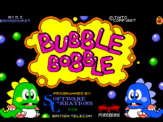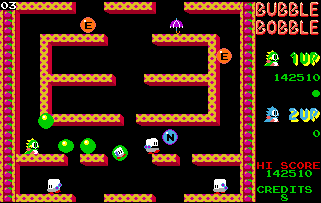 Bubble Bobble screenshots
People who downloaded this game have also downloaded:
Rainbow Islands, Cannon Fodder, Lemmings, New Zealand Story, Lemmings: Oh No! More Lemmings