Game Downloads
You're located in category:
Alien Breed
Review 1:

Not a bad little game here, considering it was converted from a movie.

You play from a birds eye view controlling the little guy who walks around with a big ol' alien killing gun. You are in a massive space ship, in which there are a never ending supply of aliens. But of course, against the odds, you, alone, must find your way through this ship. I only played the first level, and so not much of the plot was unravelled and it didn't tell you what your aim actually was in the first place, although if you have watched the alien breed movie then I am sure you would know what was going on, but I myself haven't, although I would if it was on sometime I guess, anyway, enough of me blabbing on.

As I said before, you walk around the space ship shooting aliens and picking up keys, ammo, money, etc, which can be used on doors and in your gun, etc... There are terminals scattered around in which, among other more important things, you can play pong, which I thought was pretty funny :)

A nice game that will bring back memories of Amiga style.

Review 2:

Almost everybody heard about the Alien movie. The game Alien Breed is very close to the story, but a bit different. You can see your character from the top view, and you have to blast every monster. Different levels, weapons, horroristic atmosphere. There are 2 player mode available.
Download full game now: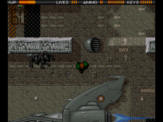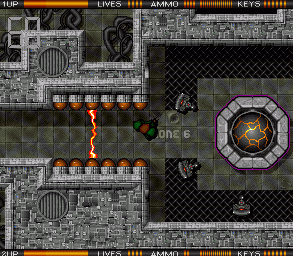 Alien Breed screenshots
People who downloaded this game have also downloaded:
Alien Breed 2, Alien Breed SE '92, Alien Breed: Tower Assault AGA, Cannon Fodder, Chaos Engine