Game Downloads
You're located in category:
MegaZeux
One of the best game-related applications ever made, MegaZeux is a versatile Game Creation System (GCS) created by Gregory Janson, creator of acclaimed ZZT games Code Red and many more. Essentially a souped-up version of ZZT, MegaZeux lets you create top-down games using ASCII graphics and tracked music (via SoundBlaster). Everything can be done with a MegaZeux' simple programming language called Robotic. While it doesn't allow for the best graphics (it's in text mode, but you can edit the ASCII characters), MegaZeux is undoubtedly the most flexible GCS currently available. The strength of MegaZeux community, with hundreds of games available and dozens of fansites, attests to the program's versatility that truly stands the test of time. Best of all, in 1998 Greg Janson released the game under the GPL concept (basically "freeware" for laymen like most of us), which has greatly motivated many fans of the program to create better, more powerful versions that are compatible with Windows environment. Definitely a must-have for anyone who is interested in creating any kind of text-based games!

Note: The download on this site is compiled especially for us by JZig, one of the designers of MegaZeux 3.1, one of the new fan-made versions. Following is some info from the readme file.

The only difference between the shareware and registered MegaZeux was a few more game worlds, so I stuck those in this zip as well. I also included a newer version than 2.51, called MegaZeux s3.1, which adds mouse support and other stuff. Contained in [the zip file] is: MEGAZEUX.DOC - general MegaZeux documentation, outdated but useful README.1ST - updated details MEGAZEUX.EXE - MegaZeux 2.51 GPL'ed version (equivalent to registered) MegaZeux 2.51S3.1 (most recent version of MegaZeux, needed for newer games) GETPW.EXE - tool for detecting passwords and deprotecting password-protected worlds.

I recommend using MZXS31.EXE for running games.
Download full game now: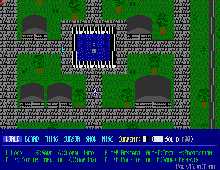 MegaZeux screenshot
People who downloaded this game have also downloaded:
Hacker (Wadesoft), Neophyte: Koplio's Story, Adventure Construction Set, Moslo 1.32, 3D Construction Kit (a.k.a. 3D Virtual Studio)