Game Downloads
You're located in category:
3D Construction Kit (a.k.a. 3D Virtual Studio)
One of Incentive's final product before changing its business into producing virtual realities is easily one of the best-- if not THE best-- game-creation program ever made. It lets you create believable 3D games with BASIC-style scripts and a highly detailed 3D object module that lets you create and specify the object's various characteristics and how to interact with it. Although the program is by no means intuitive for non-programmers, it is a very powerful tool that is very rewarding if you are willing to invest some time to explore all the intricacies. Highly recommended to all budding game designers. Anyone who likes this application should check out the sequel 3D Construction Kit 2, which was released shortly after this for the PC and Amiga, and is available for download on this site.
Download full game now: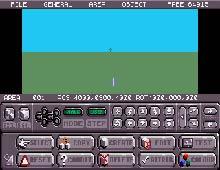 3D Construction Kit (a.k.a. 3D Virtual Studio) screenshot
People who downloaded this game have also downloaded:
3D Construction Kit 2, Hacker (Wadesoft), Pinball Construction Set, Adventure Construction Set, Stereolusions