Game Downloads
You're located in category:
Romance of The Three Kingdoms 2
Review 1:

The sequel to KOEI's excellent Romance of the Three Kingdoms is a somewhat inferior game. As opposed to a balanced gameplay of the first game which requires you to use both strategic and tactical prowess to win, RtK 2 makes winning much easier with brute force. Once you have a sizeable number of troops and good generals, you basically win the game. Despite the lack of strategic depth and tactics and a seemingly dumber computer AI, RtK 2 is still an immensely enjoyable game that might appeal to anyone looking for an easy game of conquest, but will disappoint veteran RtK commanders looking for a tougher challenge.

Review 2:

The sequel of the first one ofcourse. Concept is still the same: built a great chinese Empire with. Some game improvements where made to play it more easily. Time is e.g. a bit slower. Good game!
Download full game now: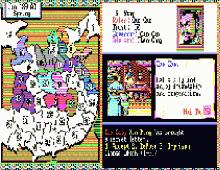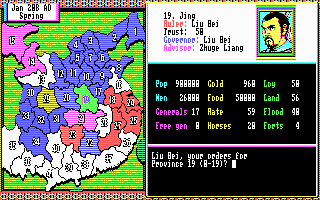 Romance of The Three Kingdoms 2 screenshots
People who downloaded this game have also downloaded:
Romance of the three Kingdoms 3, Romance of The Three Kingdoms 1, Romance of The Three Kingdoms 4: Walls of Fire, Bandit Kings of Ancient China, Gengkhis Khan 2