Game Downloads
You're located in category:
ML Crux
Between 1987 and 1990, Bob Lancaster wrote 6 games that he released under the name of "MicroLink," a PC user group he belonged to. All the games boast simple, ASCII-character graphics, but the excellent gameplay and range of options make them stand the test of time. The excellent review at Textmodegames.com says it all:

"ML Crux is the last installment in the MicroLink series of games from Bob Lancaster, and it represents a bit of a departure from his popular dice games in that there is no luck involved-ML Crux is pure strategy. An intriguing blend of Tetris and Pipe Dreams, the game challenges you to arrange a 7x7 field of crosses (or "cruxes") so as to achieve the highest possible point total. The trick is that the cruxes must be rotated so that each colored arm touches a matching color on an adjacent crux. Matching one or two colors is easy enough, but you'll need to get three or four matches in a single move if you want to have any hope of beating the computer!

ML Crux progresses through three rounds, with an ever-increasing number of colors and combinations to keep track of. But in the MicroLink tradition, the game is stress-free-there is no time limit to worry about-so if you relax and take the time to examine all of your options you'll do just fine." All in all, this unique strategy game is a fitting end to one of the best freeware series of all time. Highly recommended.
Download full game now: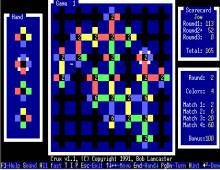 ML Crux screenshot
People who downloaded this game have also downloaded:
Norow, ML Push Your Luck, ML Shut the Box, Mille Bornes, MoonBase Commander