Game Downloads
You're located in category:
ML Shut the Box
Between 1987 and 1990, Bob Lancaster wrote 6 games that he released under the name of "MicroLink," a PC user group he belonged to. All the games boast simple, ASCII-character graphics, but the excellent gameplay and range of options make them stand the test of time.

ML Shut the Box is a solid version of a classic dice game of the same name. Basic rules are as follows: players (up to 6 allowed, any of which can be computer-controlled) take turns rolling a pair of dice. They then select digits from 1 to 9 that total the same number as the dice. Once a digit is selected, it cannot be used on subsequent rolls in the current round. When the player cannot select digits totaling the dice roll, the round is over. The player scores points equal to the sum of the digits used that round. If the player successfully uses all nine digits, they get five bonus points for a total of 50 points for the round. The game consists of five rounds and, naturally, the player with the highest score wins.

Like other games from Bob Lancaster, ML Shut the Box is fun, intuitive, and a lot of fun especially when you play with friends. If you love dice games or simple strategy games where both luck and skill are required, ML Shut the Box is well worth your time.
Download full game now: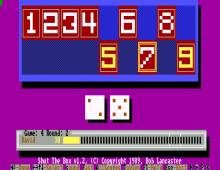 ML Shut the Box screenshot
People who downloaded this game have also downloaded:
Norow, Mille Bornes, ML Crux, ML Push Your Luck, Nemesis: The Go Master