Game Downloads
You're located in category:
Emperor of The Fading Suns
Holistic Design is one of the most overlooked developer ever-- they never seemed to pick the right publishers that would promote the games for what they are: deep, solid, and wholly engrossing strategy games. After Merchant Prince and Hammer of the Gods, Emperor of The Fading Suns continues Holistic's excellent craftsmanship: as a feudal lord of a galactic empire, you must battle other noble houses, and rally enough support to be crown Emperor of the galaxy. Apart from the BEST diplomatic model I've ever seen in a game (except for Master of Orion), the game has a truly staggering array of units and a complex backstory. This game was based on Holistic's in-house board game that has attracted a considerable cult following. With excellent AI, extraordinary depth, and a well-written space opera mythos, EOFS is a must-play for anyone who enjoys "grand-scale" space strategy games.
Download full game now: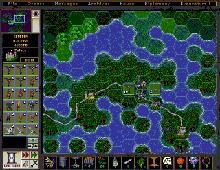 Emperor of The Fading Suns screenshot
People who downloaded this game have also downloaded:
Master of Magic, Machiavelli The Prince (a.k.a. Merchant Prince), Lords of Magic: Special Edition, Dungeon Keeper Gold, Evolution: The Game of Intelligent Life