Game Downloads
You're located in category:
Dr. Wong's Jacks+ Video Poker
Dr. Wong's Jacks+ Video Poker is a fun simulation of video poker: not the parlor poker game, but the popular high-stakes game played in most casinos. Like other casino games from Villa Crespo, DWJVP has an excellent on-line tutor, comprehensive statistics, and all the variants and options that make it better than most casino games on the market.

DWJVP not only gives you a computer tutor: it gives you one with "Tolerance Level": adjustable level of help based on your skill/familiarity with video poker. If you set the tutor to "Warn," it will warn you whenever you are about to make something other than what it considers the best play, even if that play is only slightly better than the one you have chosen. If you are confident of your skills, you can set the computer to notify you of big errors and ignore small ones. This setting is based solely on clever use of statistics: Tolerance Level is given as percentage points of deviation from the best play. For example, if the cards you hold have an expected return of 88.6% of the amount of your bet, and the best play has an expected return of 91.0%, the difference is 2.4%. If the Tolerance Level is 2 or less, the tutor will notify you that the expected return for the hand can be improved by holding different cards. If the Tolerance Level is 3 or more, the tutor will not notify you of the error. This means you can trust the computer tutor in DWJVP to give you statistically sound advice all the time - a far cry from the generic tutor in most other games that can only issue canned remarks like "good work" or "you can do better."

The neat Tolerance Level alone makes DWJVP more than deserving of a top game award. But it's also a very good game that boasts decent graphics, competent AI players, and many customizable options. Whether you are a casual or serious gambler, DWJVP has a little something for everyone. Highly recommended!
Download full game now: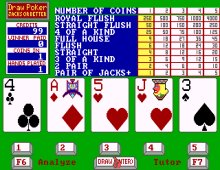 Dr. Wong's Jacks+ Video Poker screenshot
People who downloaded this game have also downloaded:
Magic: The Gathering, Lords of Magic: Special Edition, Dune 2: The Battle for Arrakis, Cubic Tic Tac Toe, Battle Bugs