Game Downloads
You're located in category:
Betrayal
One of the more mediocre games from Rainbird/MicroProse, Betrayal is a typical medieval strategy game, released only in Europe, that plays like it aspires to be another Defender of The Crown, but couldn't quite pull it off. Betrayal casts you as one of the four lords of the realm who must compete against other lords to usurp both the throne and the church. You can play against computer opponents or up to 3 human players.

Similar to Defender of The Crown, Betrayal offers several gameplay modes that blend action and strategy elements, and even a little bit of diplomacy. You can build villages, levy taxes, defend towns against enemy attacks, and lead your men in real-time combat against other lords. True to the real medieval ages, the game lets you hire spies, accuse other lords of treason or assassinate them in true Machiavellian fashion, and pay tributes to the Church and King to lure them into a false sense of security before your final assault. This comprehensive range of features should make Betrayal an excellent medieval game, but unfortunately the whole game is not greater than the sum of its parts. Similar to Sierra's later Conqueror AD 1086, different gameplay modes in Betrayal do not come together very well-combat sequences are laughably easy, and computer opponents' intelligence leaves a lot to be desired (they never seem to invade the many towns I left virtually undefended, for instance). Blocky graphics is also far inferior to the C64 original. When all is said and done, Betrayal is just another pretender to the crown that is quite unspectacular in every respect. No doubt it was quickly pulled from store shelves and became one of the least-known MicroProse releases in the company's history.
Download full game now: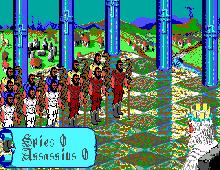 Betrayal screenshot
People who downloaded this game have also downloaded:
Battle Isle 2, Cavewars, Battle of Antietam, Battles of Napoleon, Battle Isle