Game Downloads
You're located in category:
World Trophy Soccer (a.k.a. Italia '90)
"Official" soccer game of the 1990 World Cup at Italy, World Trophy Soccer is a graphically advanced game that is unfortunately bogged down by frustrating controls and unrealistic ball mechanics. The best thing about the game is the great graphics: the players move realistically, and their excellent animations are a far cry from blocky "stick men" graphics of earlier soccer games.

Similar to Cinemaware's TV Sports series, World Trophy Soccer features many cinematic elements that enhance the "you are there" feeling, including an animated referee who would appear in the lower right of the screen, with a speech balloon announcing his calls. During penalty kicks, the perspective shifts from top-down view to behind-the-goalie view, and the results are dramatic. There are also two different perspectives that automatically change according to the attacker's position in the playfield.

Despite excellent "bells and whistles," World Trophy Soccer comes down as a lackluster game as far as actual gameplay is concerned. Controlling the players is nowhere near as intuitive as, say, Sensible's Sensible Soccer, and the almost complete lack of coaching options of any kind is disappointing, especially considering that this is the tournament's official game. Overall, if you are a die-hard soccer fan, World Trophy Soccer will likely disappoint after the "wow" effect from seeing excellent EGA graphics wears off. Arcade fans who play soccer games just for a few minutes of adrenaline rush may find it fun for as long (actually, short) as it lasts.
Download full game now: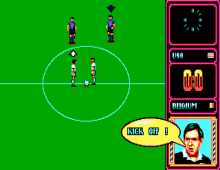 World Trophy Soccer (a.k.a. Italia '90) screenshot
People who downloaded this game have also downloaded:
Winter Olympics: Lillehammer '94, Michael Jordan in Flight