Game Downloads
You're located in category:
World Class Leader Board
Review 1:

Although a fairly primitive golf simulation, World Class Leader Board is notable as the true precursor of Access Software breakthrough Links golf series. Among its long list of innovations, the game uses RealSound to play voice samples through the PC speaker, similar to Access' Mean Streets. Here is more detailed description from MobyGames:

"Access, creators of the long-running Links series of realistic golf games, made their first golf game on the Commodore 64 (later ported to the PC). The PC version revolutionized the use of the PC speaker to reproduce voice samples via their patented "RealSound" process. Quips like "No doubt about it, he's deep in the sandtrap", "Straight onto the fairway", and "Looks like he hit the tree, Jim." are used to provide running commentary on the gameplay. WCLB is a fairly simplistic simulation of golf, with wind, snap and power being your main [only] factors to contend with, but is still a good way to get started.

A course editor is provided. The courses range from real, like St. Andrews, to fictional, like The Gauntlet (designed to push your skills to the maximum)." Although the game doesn't stand up as well as Accolade's Jack Nicklaus series, it still provides a lot of challenging fun -- and real nostalgia for Links fans.

Review 2:

CGA golf game. Very old vector based golf game. The game was originally made for the Commodore 64. Furthermore the game works with some wind where you have to deal with. You can choose some clubs and swing the ball across the field.
Download full game now: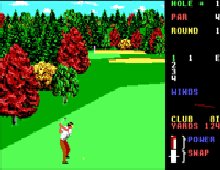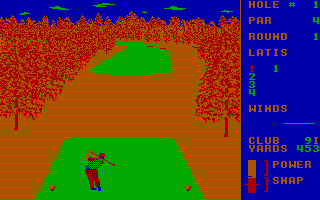 World Class Leader Board screenshots
People who downloaded this game have also downloaded:
PGA Tour Golf, California Games, Winter Games, British Open Championship Golf, Kick Off 2