Game Downloads
You're located in category:
Speed Racer: The Challenge of Racer X
"The Mach-5 is the most complex and ingenious car ever built, a tribute to my father's imagination, genius, and technical skill!" -- Speed Racer

Japan's Mach GoGoGo [retitled Speed Racer outside Japan] anime gained cultish popularity in the 1960s. We recall nostalgically Speed Racer's fight against a bizarre rogues' gallery of villains--villains with creepy names like Ace Deucey, Mr. Fixer, and Tongue Blaggard. Each episode brought complex family dynamics; Dadaist, oneiric race tracks; comedy and tragedy; and virtuousness. Speed Racer's courage was as important as his Mach-5 in attaining victory. Given the anime's popularity, an official Speed Racer computer game seems bound for success.

Unfortunately, Accolade botched the blockbuster license so badly with The Challenge of Racer X that it is not surprising the game quickly disappeared from store shelves. For starters, Speed Racer's car is ridiculously easy to drive-- there is no friction, no inertia that will convince you that you're driving a car and not a feather. The tracks are boring, and there is little variation to spice up the races. The only thing that saves the game from a Real Dog award is the inclusion of Mach-5's capabilities that anime fans will be familiar with: there's "autojack," for jumping; "belt tires," for traction; "chopper," for cutting [when selected, you see twin rotary saws extend from the Mach-5's front], and more. These are fun to try out, but after a while you will discover that they add little to the game except as a diversion to gameplay. Overall, a lackluster racing game that only die-hard fans of the anime will likely enjoy. Strip away the license, and there is little content underneath the silver chrome.
Download full game now: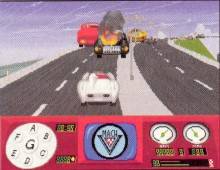 Speed Racer: The Challenge of Racer X screenshot
People who downloaded this game have also downloaded:
Eye of The Beholder 2, Extreme-G 2